This is an archived article and the information in the article may be outdated. Please look at the time stamp on the story to see when it was last updated.
CLEVELAND - It wouldn't be Labor Day weekend in Cleveland without the roar of jets along the lakefront. And this year is no different!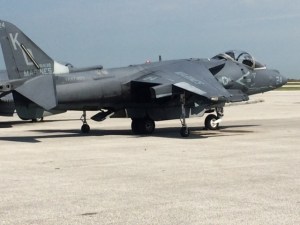 The 51st annual Cleveland National Air Show takes flight Saturday morning beginning at 11 a.m. This year, the featured performers are the U.S. Air Force Thunderbirds, the U.S. Navy's F/A-18F Super Hornet and the U.S. Marine Corps AV-8B Harrier Tactical Demonstration.
Planes began arriving on Thursday to start practicing.  Anyone in or near downtown can not only see, but hear and even feel those practices.
***Learn about show preps by clicking on the video box above***
Gates are open Saturday at 9 a.m., and the show continues Sunday and Monday. The schedule of action in the air runs between 11 a.m. and 5 p.m.
**click here for the full schedule of air events**
There are also many exhibits on the ground, including display aircraft, a Kids Zone, a  drone exhibit and chance to take pictures in display planes.
Advanced tickets are $21 for adults and $14 for children from six to eleven years old. They're available at Burke Lakefront Airport and Discount Drug Mart. (Tickets are two dollars more at the gate.) Children five and under are free.
It's going to be very hot this weekend, but coolers are  not allowed inside the show.   Chairs, wagons, strollers, camera, blankets and handheld umbrellas are allowed.  Food may be brought in, but it must be wrapped in clear wrapping and not in a cooler.
** Details on what is allowed inside - and what is not allowed - are available here. **  
Directions and parking information are available by clicking here. The Air Show wants to remind visitors that they can also ride RTA to the show, and can park free at many Rapid stations.  All-day passes are $5 and visitors can ride  any rapid line into the Tower City Station, board the Waterfront Line and exit at the North Coast Station on East Ninth Street.  From there, it's a short walk to reach the Air Show grounds. The Waterfront Line operates every 15 minutes, from 9 a.m.-10:30 p.m.
The air show draws about 100,000 people and generates an estimated $7 million for the Cleveland economy each year.
*Read more on the Cleveland National Air Show here*