This is an archived article and the information in the article may be outdated. Please look at the time stamp on the story to see when it was last updated.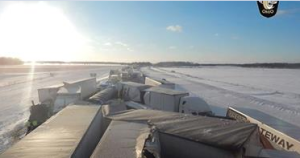 FREMONT, Ohio — They seem to stretch as far as the eye can see.
In reality, crashes involving more than 40 vehicles stretched over one mile Wednesday on the Ohio Turnpike in Sandusky County.
The Ohio State Highway Patrol posted the photo above on its Facebook page Thursday.
There were actually two separate crash zones Wednesday near mile post 102 and 101, trapping some 50 vehicles between them.
Trooper Andrew Clouser, 29, was seriously injured when he responded to the crashes to investigate.
Hannah Matheny, 20, of Parma; Grzegorz A. Piwowarczyk, 42, of Palatine, Illinois; and Janice M. Robb, 66, of Schererville, Indiana, were killed.
For extended coverage on this story, click here.