This is an archived article and the information in the article may be outdated. Please look at the time stamp on the story to see when it was last updated.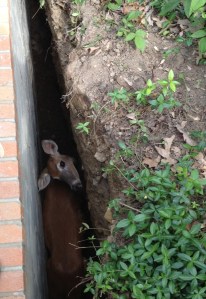 PARMA, Ohio — They're meant to save people, but a couple of firefighters in Parma didn't hesitate when a deer needed a rescue over the weekend.
It happened at around 4 p.m. Sunday on South Park Drive, where firefighters responded to a call about a deer that had fallen into a 5-foot trench.
Using ropes and straps, crews secured the animal before sliding it up with a piece of wood planking. Luckily, the deer was uninjured.
The best part?
After shaking off its rescue ropes, it scampered off into the woods, where another deer was waiting for it.
Do you like this story? Read other happy tales on our Pet Place page!