This is an archived article and the information in the article may be outdated. Please look at the time stamp on the story to see when it was last updated.
AVON LAKE, OH — For most children, their artwork might make it only as far as the kitchen refrigerator.
But for one girl in Avon Lake, her drawing will be seen all over the country.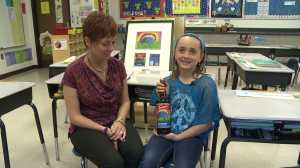 A design created by 8-year-old artist Emila Sansotta will grace the labels of Torani Raspberry bottles. The drawing features a blue elephant with painted toenails and a rainbow.
"The toenails, well they said to make it bright, and when you put the toenails in say, blue or gray, it didn't look that bright, and I liked it in rainbow," said Emila.
Emila won a nationwide contest to design a label for the popular syrup company. She says it only took her about 25 minutes to complete her masterpiece. Now, her artwork will be featured on the bottles until the end of the year.
The bottles will soon be available in all Giant Eagle, Costco and World Market stores.