This is an archived article and the information in the article may be outdated. Please look at the time stamp on the story to see when it was last updated.
By Allison Brown
NORTH RIDGEVILLE, Ohio -- A fire in North Ridgeville destroyed a local restaurant Saturday.
It happened around 3 p.m. at the Black Dog Pub and Eatery on Sugar Ridge Road.
Because of the disaster, the building couldn't be saved. Crews had to demolish it.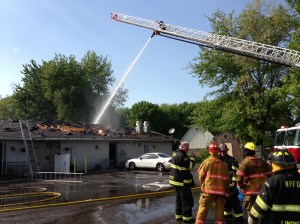 The fire made for a sad day, especially for people who eat there all of the time and the owners,who have only been running Black Dog for a little over a year.
"This was one of our hangouts," said Carol Nagy, who frequented the restaurant.
Crews with the North Ridgeville Fire Department said it was an accidental fire.
"The building, it was built by code. It's just the nature of the beast," said North Ridgeville Fire Chief John Reese. "They had a lot of fire moving fast, and it was hard to get to because it was under the roof, and the roof keeps water out like it is supposed to."
The chief tells Fox 8 a restaurant cook was outside smoking prime rib when a propane fire got too close to the building.
A handful of people were inside.
"I was actually here having lunch, and luckily there was ... somebody drove by, and seen that the building was catching fire, and we didn't even know it," said one patron.
The owner of the restaurant, who didn't want to be identified, was heartbroken as she looked on while several different agencies sprayed down the building.
A dream came crashing down.
"She just put a lot of money into the floors. She just remodeled the place you know. She was doing really good on business. Everything was going great," said Xevier Neider, who was a chef at Black Dog. "It's sad that she did a lot here, for it to just go up like that."
Firefighters said the building is a complete loss, about $300,000.
But everyone is grateful that no one was hurt.
For more on this story, click here.