This is an archived article and the information in the article may be outdated. Please look at the time stamp on the story to see when it was last updated.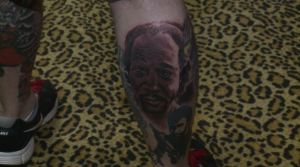 CLEVELAND, Ohio — Cleveland's Charles Ramsey has gained national attention this past week after his heroic actions in the rescue of Amanda Berry, Gina DeJesus and Michelle Knight.
A local artist was so impressed, he made an offer that at least one man couldn't turn down: a free tattoo of Ramsey's face.
"He's kind of like that public figure in Cleveland right now, kind of the voice and face of it," said Rodney Rose, tattoo artist at 252 Tattoo. "He's such an expressive guy, I figured it'd make a great tattoo."
Ramsey's role in the rescue of the women — he heard Berry screaming and, thinking she was escaping a domestic dispute, kicked open a door for her — has made him a hero to many. His straight-shooting retelling of the story, with its colorful asides and sometimes-profane vernacular, has also captivated the web.
Rose said last week he posted an offer on Facebook that if someone was willing to get a Ramsey tattoo, he would do it for free.
His friend, and fellow tattoo artist, Stephen Munhollon, bit.
"I think Rodney and I were caught up in the ridiculousness of it," said Munhollon. "You could ask the question, did I want to get Charles Ramsey tattooed on my leg, and the obvious answer is no. The real question is, was I willing to get Charles Ramsey tattooed on my leg, and the answer was yes."
The tattoo is on the back of his knee cap and took about five hours to ink.
While he jokes about his decision, Munhollon said the tattoo actually has meaning.
"In society, a lot of times people choose not to get involved in situations," he said. "I think what's really grabbed people in regards to Mr. Ramsey, is he's an average, everyday guy. He's an ordinary person, he was put in an extraordinary situation that he could have walked away from. But he chose to do something."
Munhollon said he's gotten stopped several times already about the tattoo, and people have even requested to have their photos taken next to it.
"People even around here loved it because everyone knows who this guy is now," said Rose. "I wasn't sure if people would think it was Jimi Hendrix or Bob Marley, but everyone knew right away it was Charles Ramsey."
Ramsey's an example that everyday heroes exist, said Munhollon.
"It goes to show there are good people out there from all walks of life, from all corners of the city," he said.