This is an archived article and the information in the article may be outdated. Please look at the time stamp on the story to see when it was last updated.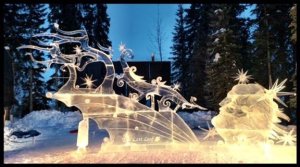 BROADVIEW HEIGHTS, Ohio — Local ice sculptor Aaron Costic has just returned home from Alaska after successfully defending his latest World Champion title.
Costic, of Elegant Ice Creations, is an award-winning ice sculptor who regularly competes at the Winter Olympics. He took home gold in Torino and bronze in Nagano.
His contest in Fairbanks made him a nine-time world champion.
During the contest, over 80 ice artists from all over the world converged on Fairbanks to compete in two week's worth of competition. Aaron and his team were given 50,000 pounds of ice and worked 12-hour days in an effort to create "The Last Leaf" sculpture.
Their sculpture showed the transformation from autumn to winter as the wind attempts to blow the very last leaf from the tree.
Costic's teammates were Stan Kolonko, Jerry Perun and Wei-sen Laing.