This is an archived article and the information in the article may be outdated. Please look at the time stamp on the story to see when it was last updated.
EAST CLEVELAND, Ohio– A local family ripped apart by the mass shooting in a South Carolina church; one of the victims is an 87-year-old woman with ties to the area.
"My grandma was very involved in the church," said Tim Jackson, grandson of Susie Jackson.
Susie Jackson was one of the nine people shot and killed at the Emanuel AME Church in Charleston, South Carolina Wednesday night.
"She was just a very caring, loving person," Tim Jackson said, as he sat on his front porch clinging tight to a picture of his grandmother.
He said she had just visited his home here two weeks ago.
"She left birthday cards for my kids saying she wanted them to have them just in case she didn't see them again," Jackson recalled.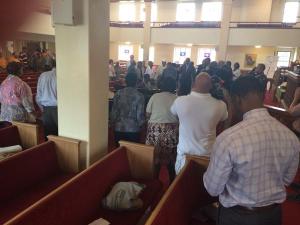 Tim Jackson said his grandmother was a choir member at the church for more than 30 years and she felt safe at the church.
He believes she and the other members probably welcomed the suspect into the church.
"I'm sure they never suspected anything," Tim Jackson said.
Tim Jackson's father, Walter, Susie's only child, is on his way to South Carolina.
He asks that everyone pray for his family and well as the families of the other victims.
*Click here to read more on the other victims*