This is an archived article and the information in the article may be outdated. Please look at the time stamp on the story to see when it was last updated.
MASSILLON, Ohio -- The parents of Luke Marcelli say they suspected he was going flying with friends Monday after they became aware of a post he left on Snapchat saying "ready for takeoff."
Marcelli, 20, was among four people who died when a Cessna 172R, in which he was a passenger, crashed in Willoughby Hills late Monday.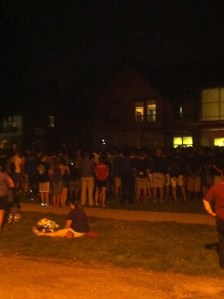 "We knew that he had two friends that were pilots and that he had mentioned before about maybe flying, 'you know if you guys can't come pick me up from school I have a friend who is a pilot and he said he would fly me home,'" his mother Angela Marcelli told FOX 8 News on Tuesday.
Angela said she was always anxious about him flying in a small plane and if she had the chance she would have tried to talk him out of going on the flight, but doesn't second guess Luke's decision to go.
"When you really think about it there wasn't anything wrong with that choice, you know?" said his mother.
"I thought if that clip was on (Snapchat) it was probably already over and never really thought another thing about it. I just thought some of his friends went up for a little flight around the city and that's exactly what they were doing. They were just going for a flight above and looking around the city and land right there they weren't going to land anywhere but where they started. It was just a little joy ride," she added.
Marcelli was described by his parents as a bright, successful young man who set his goals high and worked hard to achieve them.
"He had over a 3.5 average and he was in pre-med," said his father, Bryan Marcelli, adding, "He knew what he wanted; he wanted to be an orthopedic surgeon. He wanted that for as long as I can remember, so he decided if you are going to go to a university might as well go to the best one, so he kept his grades up and he worked and he was successful there."
His father says Luke was also the treasurer of his fraternity at Case Western Reserve and had already decided he was going to make his mark there as well.
"He said next year I'm going to be president and that was the way he worked. He didn't want any favors but he said, 'if I work hard I see the future.'"
Marcelli attended Jackson High School in Massillon where he was a four-year letterman in wrestling, finishing sixth in the state in both 2012 and 2013.
He continued to have success in wrestling at Case Western Reserve where he was named Rookie of the Year his freshman year and was twice the University Athletic Association wrestler of the week in his freshman season.
"The thing that stands out is, whatever he did, he worked hard," said his father.
"We always talked about. It doesn't ensure your being successful, but it lays the groundwork for being successful. Wrestling did that for him, yeah, wrestling did that for him, the discipline," he added.
Luke's father is also an assistant varsity wrestling coach at Jackson High School where several of his siblings are students.
Grief counselors were at the school Tuesday, where a moment of silence was observed.
"Luke was an amazing young man, exceptional work ethic. Those that have children, including myself, would be someone as a role model I would want my own child to emulate," said Jackson Superintendent Chris Diloreto.
Marcelli also leaves behind a twin sister who was at Heidleberg University when their parents learned about the crash.
They rushed to pick her up and get her home before she learned about her brother's death through social media or on the news.
"He thought all of the people in his life were important and he did a lot for people. He had great relationships with people," said his mother.
Those relationships were evident on Tuesday as news started to spread around the Massillon area with friends leaving consoling messages on the Jackson Local School's Facebook Page, phoning and visiting the Marcelli family to offer their condolences.