This is an archived article and the information in the article may be outdated. Please look at the time stamp on the story to see when it was last updated.
CLEVELAND — A 6-year-old Northeast Ohio boy is living the life of a movie star after he played one of the lead roles in the film "Heaven Is For Real."
The story is based on the true experiences of a boy who claimed to have visited Heaven.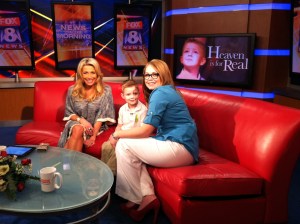 Connor Corum didn't have acting experience and wasn't affiliated with an agency, but when a friend mentioned a casting call to his parents, they knew he fit the bill.
The producers were looking for a blond-haired, blue-eyed boy.
"We weren't trying to do this. It was kind of on a whim. Kind of a fluke," Connor's mom, Shannon Corum, said on Fox 8 News Wednesday morning.
She explained how Connor memorized some lines and sang "Amazing Grace" at the audition.  Afterward, he announced he "definitely wanted to be an actor."
A few days later, the family learned the director wanted Connor to fly to Los Angeles to do a screen test with actor Greg Kinnear, who would play Connor's character's father.
"He loved it, it was very natural and easy for him. We were not pushy and just kind of let him experience it, and if it worked, then it worked.  And if it didn't, it didn't," Shannon said.
The movie is scheduled to be released April 16, but the Corums have already seen it.
"It's a story that makes you think and makes you feel that hope and that love, and it's all good stuff," Shannon said.
Connor was happy with the final product, too.  He said one of his favorite parts of the experience was seeing himself on-screen.  He also said he liked filming a scene on a swing set.
There were many other highlights, like when there was bubble gum on-set.
As far as a future in acting, the family plans to take things one step at a time, but Connor told us his dream gig would be a role in a Captain America movie.
He shares much more in the videos above and below.
Click here for information on a fundraiser screening of the movie.