This is an archived article and the information in the article may be outdated. Please look at the time stamp on the story to see when it was last updated.
CLEVELAND — A sold-out crowd of over 1,200 people honored Greater Cleveland's top athletes at the 15th annual Greater Cleveland Sports Awards on Thursday night at the Renaissance Hotel in downtown Cleveland.  The award show handed out Athlete of the Year awards to one professional, one Collegiate, one Amateur and one High School athlete.  Indians starting pitcher Corey Kluber, who last year won the American League Cy Young Award won the professional athlete of the year after compiling an 18-9 record with 296 strikeouts and a 2.44 earned run average.
Kevin Burke of Mount Union took home Collegiate Athlete of the Year honors after leading Mount Union to an undefeated regular season and a trip to the NCAA Div. III National Championship game.  Burke was also named the 2014 winner of the Gagliardi Trophy which is given to the top all-around NCAA Division III player.
Kelli Stack of Brooklyn Heights, who is a member of the USA Women's Hockey team, wrapped up Amateur Athlete of the Year honors.  Stack was a Silver medalist at the 2014 Winter Olympic Games in Sochi, Russia.  She scored one goal and added four assists in five games at the 2014 Olympics.
Friday Night Touchdown player of the year, Mitch Guadagni of Hudson High School, was named High School Athlete of the Year after leading the Explorers to an undefeated regular season and a trip to the Division I state semifinals.  He threw for over 2400 yards and rushed for over 1,000 as he compiled 42 total touchdowns.
Indians broadcaster Tom Hamilton won the Lifetime Achievement Award.  Hamilton finished his 25th season of calling play-by-play of Indians games.  His 24-year tenure is the second longest in club history next to his former partner, Herb Score who served for 34-years.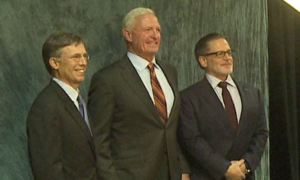 All three majority owners of the Cleveland professional sports franchises: Jimmy Haslam (Browns), Dan Gilbert (Cavs), and Paul Dolan (Indians) participated in the ceremony in a question-and-answer session with emcee, Eddie George.  Also, Ohio State quarterback Cardale Jones received a special award from Nick Swisher for leading OSU to the first ever College Football Playoff National Championship.
The Greater Cleveland Sports Awards serves as the primary fundraiser for the Greater Cleveland Sports Commission.