This is an archived article and the information in the article may be outdated. Please look at the time stamp on the story to see when it was last updated.
WESTERVILLE, OH -Two Ohio police officers responding to a 911 hang-up call were fatally shot on Saturday after entering an apartment in a Columbus suburb and a suspect was taken into custody, authorities said.
Westerville Police Chief Joe Morbitzer said officer Eric Joering, 39, died at the scene and his colleague, Tony Morelli, 54, died at a local hospital. He said the officers were responding to a "potential domestic situation."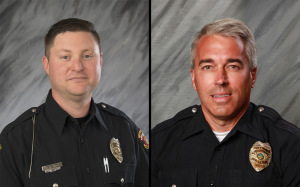 "The officers gave their lives in defense of others," Morbitzer said during a news conference, struggling to keep his emotions in check. He called them "true American heroes."
Police provided no details about the suspect during a brief news conference. A male suspect was wounded and hospitalized, police spokeswoman Christa Dickey said.
Ohio Governor John Kasich posted a statement on Twitter that reads
"I am very saddened to learn of the deaths of two of my hometown police officers today. I've spoken with Westerville city leaders and pledged the full assistance of the Ohio Highway Patrol in any way they need. We will learn more soon about this tragic incident, but please join me in lifting up these officers' families in prayer. "
President Donald Trump tweeted: "My thoughts and prayers are with the two police officers, their families, and everybody at the @WestervillePD."
My thoughts and prayers are with the two police officers, their families, and everybody at the @WestervillePD. https://t.co/AoingY77Ky

— Donald J. Trump (@realDonaldTrump) February 10, 2018
Joering was a 17-year police veteran and Morelli was a 30-year veteran.
"These were two of the best we have," said Morbitzer. "This was their calling."
He added, that they "both gave their life for the protection of others and that's what they lived and breathed."
Westerville, on the northeast side of Columbus, is a suburb of about 39,000 with a per capita income well above the rest of Ohio. It regularly tops lists of the country's best suburbs.
Kasich plans to give his last State of the State address March 6 at Otterbein University, a liberal arts college in downtown Westerville.
U.S. Senator Sherrod Brown (D-OH) released the following statement in response to the news:
"Connie and I are heartbroken by this loss. We are thinking of the officers' families, their fellow officers and everyone involved, and we are grateful to all Ohio law enforcement who put themselves in harm's way to keep us safe."