This is an archived article and the information in the article may be outdated. Please look at the time stamp on the story to see when it was last updated.
​
CLEVELAND — The mother of a Cleveland 4-year-old boy shot in the head while riding in a car with her on I-90 spoke publicly for the first time Friday.
Cecelia Hill thanked everyone for their thoughts and prayers. "I lost my faith that night; I wasn't able to protect my kid. I had to put my child in God's hands," she said.
Hill said her son, Marquis Wellington, Jr., is doing well; she called him the "coolest, strongest kid you'll ever meet."
Rainbow Babies & Children's Hospital pediatric Surgeon Dr. Krystal Tomei also spoke.
Dr. Tomei said the bullet tracked through the front part of the child's brain and his skull. "He was incredibly lucky. We don't always see kids that undergo the same type of procedure have the same outcome."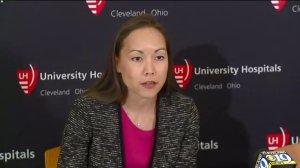 "He's doing great, all things considered — had an excellent post-operative course. He's been out playing, garnering the love of all the nurses up there," said Dr. Tomei.
Marquis was out of his hospital bed Thursday, playing with his sister and surrounded by balloons and stuffed animals.
The shooting happened late Sunday near the East 55th Street exit. According to a police report, people inside another car fired eight gunshots at the family's car, with one of the bullets hitting the child.
Hill told police the incident followed a dispute near the Lakeview Terrace Apartments on Division Avenue near West 25th Street, where the suspect car was blocking the road. She said she honked her horn and then drove around the car, and it began chasing her onto the Shoreway.
Leon Edwards and Jonathan Smith, both 21, were arrested on charges of attempted murder. Smith was arraigned on a charge of attempted murder in Cleveland Municipal Court Friday morning. He is being held in jail on a $200,000 bond as he awaits another court appearance next week.
U.S. Marshals arrested Edwards at a relative's home in Alabama Thursday, and he is being extradited to Cleveland to face an attempted murder charge.
An arrest warrant filed by police said Smith called the child's mother and said he was a passenger in the vehicle, but not the shooter. Police have said the victims and suspects did not know each other.