This is an archived article and the information in the article may be outdated. Please look at the time stamp on the story to see when it was last updated.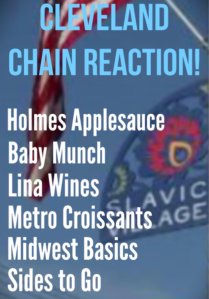 CLEVELAND– More than $1 million was handed out LIVE on FOX 8 News in the Morning today.
The winners of our Chain Reaction project were announced.
They are:
— Holmes Mouth Watering Applesauce
— Baby Munch
— Lina Wines
— Metro Croissants
— Midwest Basics
— Sides to go! BBQ
A group of local investors handed over the cash to the local businesses who have been vying for the money for the past several months.
The project began back in March. There were originally four Cleveland neighborhoods in the running; Slavic Village was chosen.
Then, entrepreneurs from that neighborhood competed for the chance to earn cash to get their ideas off the ground.
The opportunity was a concept backed by LeBron James called "Cleveland Hustles," with local business owners hustling to get their idea off the ground.
**More Chain Reaction stories, here**