This is an archived article and the information in the article may be outdated. Please look at the time stamp on the story to see when it was last updated.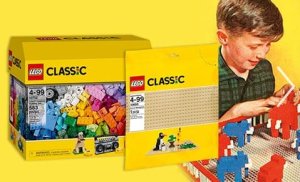 UPDATE: The Walmart site is showing that these are sold out. (There were limited quantities according to the site.)
On Jan. 28, LEGO marked the 60th anniversary of the iconic LEGO brick.
To celebrate, Walmart is selling limited edition LEGO sets at 1958 prices.
On Feb. 3, Feb. 7 and Feb. 11, customers can get a LEGO 60th anniversary "bundle" for $5.65.
That bundle includes a LEGO classic creative building set and a sand base plate. There are a whopping 583 pieces in 41 colors included in the set.
For that listing, click here. 
In addition, three limited edition classic LEGO sets are being sold at regular prices. On Feb. 1, Walmart began to sell a limited edition house set.  Two more 'mystery' sets will be sold Feb. 5 and Feb. 9.