This is an archived article and the information in the article may be outdated. Please look at the time stamp on the story to see when it was last updated.
The Lake County Captains have unveiled a whale of a sandwich that can feed a family or a really hungry fan.
The Captains announced today the Moby Dick, a 15-inch sesame seed hoagie roll, five quarter-pound fish filets, eight slices of cheese, six ounces of clam strips, one-third pound of French fries, one cup of cole slaw, all topped off by gobs of lettuce, tomatoes, pickles, and tartar sauce, will go on sale in April.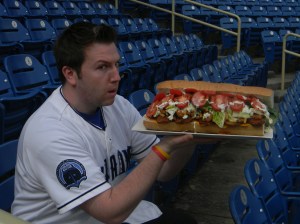 The over three pound behemoth is a combined 4000 calories and packs 200 grams of fat.
The price for this mini-monstrosity, only $20.
The Captains are also offering a Moby Dick Challenge to their fans.
Any fan that can consume a single Moby Dick sandwich in less than an hour, by themselves, will receive a commemorative t-shirt and have their photo placed on the Champion Eaters bulletin board at Classic Park.