This is an archived article and the information in the article may be outdated. Please look at the time stamp on the story to see when it was last updated.
How do you feel about the name Harland?
If you're an expecting parent, you might like it a lot after you hear this:  KFC announced on social media and online that your "greatly named kid could get get $11,000 for college."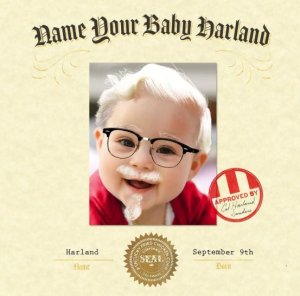 Here's how it will work: If you're planning on naming your bundle of joy Harland — after Colonel Harland Sanders — and you happen to have your baby on September 9 — which was the Colonel's birthday — KFC says you can enter your little one into its contest. When the time comes, you can do so on KFC's website. The restaurant says the entry period ends on October 9 at 11:59 p.m. EST.
Why is the restaurant doing this? Well, you see, Harland may not be a very popular name right now, but KFC says "old man names are cool again."
https://twitter.com/kfc/status/1034811067765940229