This is an archived article and the information in the article may be outdated. Please look at the time stamp on the story to see when it was last updated.
CLEVELAND - A Cleveland based real estate company has officially completed its purchase of downtown's Key Center.
The Key Center, located on Public Square, is a 57-story tower which houses the Cleveland Marriott Downtown, offices, a parking garage and is attached to the 10-story historic Society Corporation bank building.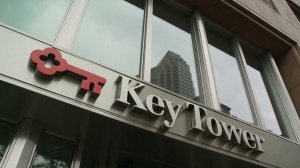 The Millennia Companies was looking for a new headquarters, which led them to buy the Key Center from Atlanta's Columbia Property Trust. At first, they were planning on just being tenants in the building, but after realizing they could possibly purchase the structure, they went into action.
Millennia says it is planning a $24 million renovation to the tower's lobby, plaza and the hotel.