This is an archived article and the information in the article may be outdated. Please look at the time stamp on the story to see when it was last updated.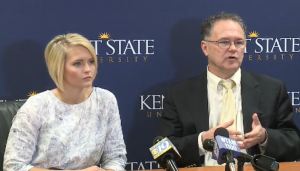 KENT, Ohio -- A Kent State University professor and a student who were in Brussels during last week's terror attacks have returned to campus.
Dozens of people were killed and over 200 were injured during three explosions at an airport and subway station during the attacks. ISIS has taken responsibility for the blasts.
Nineteen students and two faculty members in all were in Brussels during their trip through the Kent State College of Business at the time.  The group wasn't close enough to see or hear any of the explosions.
Professor Don Williams said the group was giving a presentation at the National Bank of Belgium when the attacks happened. They were permitted to finish their presentation and then walked back to their hotel, which was located nearby.
"We were safe, we were not near the incident at all," said Williams.
Alana Biles said she was panicked at first because she didn't have cell service or WiFi. They heard sirens and saw door to door searches and helicopters.
"Honestly I remember that morning, I was in an absolute panic. It was just the fear of you don't know what's going to happen next," Biles said.
During the city-wide lock down that was issued after the attacks, the group stayed at the hotel where they were safe. The lock down was eventually lifted.
"Everyone was scared and nervous," Biles said. "By the end of the day everyone was back out in the streets. It was as if the people there just continued on as if normal."
The next morning they moved on to Luxembourg and Paris.
Stick with Fox 8 and Fox8.com for more.