This is an archived article and the information in the article may be outdated. Please look at the time stamp on the story to see when it was last updated.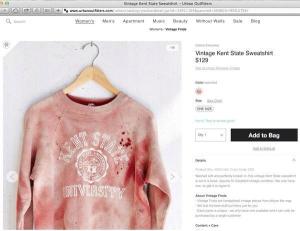 KENT, Ohio — Kent State University said it took "great offense" to a vintage sweatshirt that was sold by Urban Outfitters, and it's not alone.
Many others were appalled by the design, saying online that it looked blood soaked and splattered.
Four unarmed Kent State University students died in May of 1970 when the National Guard opened fire during a Vietnam War protest.
The sweatshirt had the university's name and seal across the front.  It was different shades of red with the ink concentrated in certain spots.
The garment was listed for $129 on Urban Outfitters' website.  The description read, "Washed soft and perfectly broken in, this vintage Kent State sweatshirt is cut in a loose, slouchy fit. Excellent vintage condition. We only have one, so get it or regret it!"
Here's Kent State's statement in its entirety:
"May 4, 1970, was a watershed moment for the country and especially the Kent State family. We lost four students that day while nine others were wounded and countless others were changed forever.  

 We take great offense to a company using our pain for their publicity and profit. This item is beyond poor taste and trivializes a loss of life that still hurts the Kent State community today.

We invite the leaders of this company as well as anyone who invested in this item to tour our May 4 Visitors Center, which opened two years ago, to gain perspective on what happened 44 years ago and apply its meaning to the future."
Urban Outfitters also responded to the outrage the sweatshirt caused.
Urban Outfitters sincerely apologizes for any offense our Vintage Kent State Sweatshirt may have caused. It (cont) http://t.co/o3oKyPJFu8

— Urban Outfitters (@UrbanOutfitters) September 15, 2014
Urban Outfitters describes its "Vintage Finds" as pieces from all over the map.
"Each piece is unique – we only have one available and it can only be purchased by a single customer," the website explains.
Urban Outfitters said it removed the item from its site but the sweatshirt has since shown up on eBay.