This is an archived article and the information in the article may be outdated. Please look at the time stamp on the story to see when it was last updated.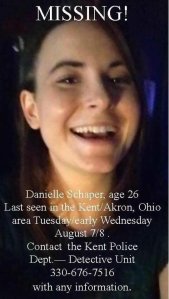 KENT, Ohio– The Kent Police Department is asking for the public's help locating a 26-year-old woman.
Family and friends said they last heard from Danielle Schaper at her job on Brittain Road in Akron on Aug. 8.
According to police, she's left without notice in the past, but this time she does not have her vehicle.
Schaper is 5 foot 2 and 125 pounds with brown hair, brown eyes and freckles. She has the words "serenity," "courage" and "wisdom" tattooed on her left foot, as well as a fish tattoo on her right arm.
Anyone with information is asked to call Kent detectives at 330-673-7733.