This is an archived article and the information in the article may be outdated. Please look at the time stamp on the story to see when it was last updated.
WAVELAND, Miss. – During the devastation of Hurricane Katrina in 2005, Air Force Master Sergeant Mike Maroney rescued a little girl and her family from the floodwaters.
Someone took a picture of the little girl, LaShay Brown, hugging him in thanks.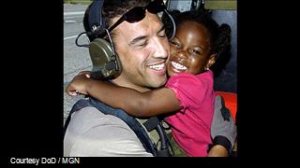 LaShay became known as the"Katrina girl" because of it. The picture became famous, but Maroney never got her name. He held on to it though, saying that it brought him through some tough times.
Ten years later, he decided to find her and they reunited after a social media campaign.
The two have kept in touch ever since, and recently, LaShay asked Maroney to escort her to her Junior ROTC Ball. LaShay credits Maroney's influence on her for her decision to enter JROTC.
Maroney says the decision to accept the invite was an easy one. "I'm going because I would do anything to repay the hug to LaShay and her family. They mean as much to me as my own."