This is an archived article and the information in the article may be outdated. Please look at the time stamp on the story to see when it was last updated.
CLEVELAND- The FOX 8 I-Team has found a mother and her boyfriend both going to prison for decades for the death of her 5-year-old child found dead and buried in the backyard.
Larissa Rodriguez will do 25 years. Hey boyfriend, Christopher, will spend 28 years.
Thursday, they agreed to plea deals first revealed by the FOX 8 I-Team. They pleaded guilty to involuntary manslaughter and more.
However, in court, neither one apologized for what happened, and neither one explained it.
A tip from a relative led police to the child in the backyard about 3 months after he'd been buried. Investigators discovered the body in December on Cleveland's west side.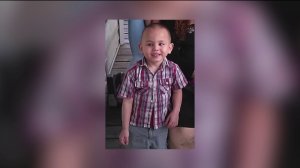 While mom and her boyfriend didn't break down at sentencing, Judge Nancy Russo did. Judge Russo saw crime scene photos and she said, "And Mr. Rodriguez, this is a horror. I know as a judge, I'm not supposed to show emotion. And in 22 years, I never have. This is one of the worst things I have ever seen in my life."
Police video obtained by the I-Team showed Larissa Rodriguez initially trying to throw off police when they first started asking questions.
The judge added, "And what I don't understand, Mr. Rodriguez, is why you don't want to cleanse yourself and tell the truth about what happened here."
Not in court, the father of the child buried. Investigators identified him, and they tracked him down. We`ve learned he doesn`t live locally. Never even knew the child had been born until after all of this came to light about how the child died.
Cuyahoga County prosecutors pointed out Christopher Rodriguez had a criminal record, and they said they had been told he had been abusive in the home.
Larissa Rodriguez is the mother of 10 kids. She, in fact, just gave birth in jail. Some of her kids are grown. In the past, others were taken away permanently by social workers. Cuyahoga County Juvenile Court is still sorting out where the juveniles will grow up.
Cuyahoga County child welfare workers have investigated this mother over the years 18 times.
At sentencing, a prosecutor read a letter from heartbroken relatives. They claim they had tried to get Jordan out of a bad home situation, or at least, get him some help. The child had special needs and was described as "non-verbal."
Cuyahoga County prosecutors say investigators found little Jordan had been beaten, but detectives have struggled to clearly determine a motive for what happened. They say the child's body had been wrapped in blankets and bags and moth balls to keep animals away.
The I-Team has learned investigators intercepted many letters between the mother and her boyfriend while both were in jail; phone calls, too. We've learned some of the letters to Larissa Rodriguez also came from inmates in other lock-ups supporting her.