This is an archived article and the information in the article may be outdated. Please look at the time stamp on the story to see when it was last updated.
CINCINNATI, Ohio — Three Malayan tiger cubs are being cared for in the Cincinnati Zoo's nursery.
The zoo says the first-time mother's maternal instincts didn't kick in, raising the threat to the cubs that their body temperatures would get too low without their mother's warmth. The zoo says nursery staffers are keeping them warm and feeding them.
Mammals curator Mike Dulaney says such reactions aren't uncommon for first-time tiger mothers, and that they can be aggressive and harm their cubs.
The zoo expects the cubs to be playing in their outdoor habitat by early spring.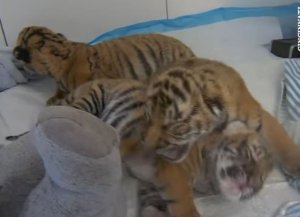 Zoo officials hope the endangered Malayan tiger babies someday will contribute much-needed genetic diversity for species survival efforts.
Zoo staffers are also caring for a baby hippo born six weeks early on Jan. 24.