This is an archived article and the information in the article may be outdated. Please look at the time stamp on the story to see when it was last updated.
CLEVELAND— A judge in Cleveland has sentenced a 21-year-old man to spend the rest of his life in prison for fatally shooting three people at a barbershop and conspiring to kill an eyewitness to the slayings.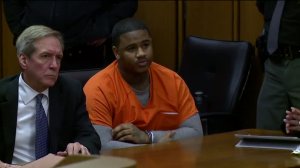 A jury last month found Douglas Shine Jr. guilty of multiple counts of aggravated murder and other charges and recommended Common Pleas Judge Joan Synenberg sentence him to death.
Prosecutors say Shine walked into a Warrensville Heights barbershop in February 2015 with guns in both hands and opened fire, killing rival gang member and shop employee Walter Barfield, shop owner William Gonzalez and customer Brandon White. Shine also was convicted of conspiring to kill eyewitness Aaron Ladson, White's brother.
Shine's attorneys argued his life should be spared because of abused he suffered as a child.
When asked if he wanted to make a statement to the court, Shine said "All I gotta say is I'll be back."
"He was so disrespectful in spite of the judge giving him so much respect he didn't give anybody respect in here," said Angela Ladson, mother of two of the victims. "To see a young man not have remorse is unbelievable. Unbelievable."
In announcing her sentence of life without parole, Synenberg stated that she weighed Shine's troubled background, including being the victim of abuse and neglect and half of his lifetime spent in the juvenile justice system. She said an expert's analysis ranked his emotional age at that of a 5 year-old and she did not feel death was appropriate because of those mitigating factors.
"Life without parole is fine. He can no longer be on the streets, he can no longer hinder anybody as far as gangs, and let him be an example for the community and maybe someone will think twice about joining a gang," Ladson said.
On Monday afternoon, Cuyahoga County Prosecutor Timothy McGinty released the following statement regarding the sentence of life in prison:
"The State respectfully, but profoundly, disagrees with this decision. Every single juror heard the same, minimal evidence of mitigation and rejected it.
Unfortunately, the court gave more weight to the self-serving, unsubstantiated statements of an unrepentant, malingering mass murderer than to the overwhelming evidence that he was fully capable of planning and carrying out this diabolical attack on a crowded barbershop filled with men, women and children.
Any assertion that this assassin was too immature to be held responsible for his crimes and to receive the death penalty was disproven again when, from County Jail, he carefully planned the execution of the main witness against him.
Every recorded phone call of his plot to kill demonstrated that this man knew exactly what he was doing – and that he fully deserved the jury's verdict.
The State thanks all of the law enforcement personnel – from Warrensville Heights Police Department, the Cleveland Division of Police, BCI, FBI and the Sheriff's Office – who worked relentlessly and at great personal risk to take this homicidal gang leader off the streets, as well as all of the witnesses who courageously came forward despite intimidation."