This is an archived article and the information in the article may be outdated. Please look at the time stamp on the story to see when it was last updated.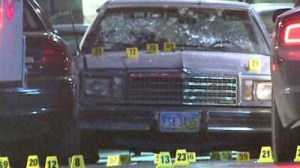 CLEVELAND - Defense attorneys representing officers in a deadly police chase and shooting want charges filed against their clients dismissed, saying they believe prosecutors acted improperly and used statements officers were forced to give to their employer to gain grand jury indictments.
It is not known if Judge John O'Donnell will decide Wednesday whether prosecutors used tainted grand jury testimony to indict six Cleveland officers following the deadly police shooting in 2012 and whether the indictments should be dismissed.
Defense attorneys believe Cuyahoga County prosecutors used statements in their criminal investigation that were taken from an internal police investigation where officers were threatened with dismissal if they did not talk.
Commander James Chura, of the Cleveland Police Department, testified during the hearing that he only gave those protected statements to prosecutors that were not working on criminal charges.
Prosecutors stressed during opening statements that they did not use tainted testimony or evidence as part of their criminal investigation.
Timothy Russell and Malissa Williams were killed after the deadly November 2012 chase that started at the Justice Center after an officer thought someone in the suspects car fired a shot at him.
The chase ended in East Cleveland when 13 Cleveland police officers fired 137 shots killing the two unarmed suspects.
Officer Michael Brelo faces two counts of aggravated manslaughter after being accused of firing the last 15 shots of a 137-round barrage. Five supervisors are charged with dereliction of duty. All have pleaded not guilty.