This is an archived article and the information in the article may be outdated. Please look at the time stamp on the story to see when it was last updated.
WASHINGTON, D.C. — Sen. John McCain, Vietnam War hero and longtime maverick Republican senator, has died at 81 following a battle with brain cancer.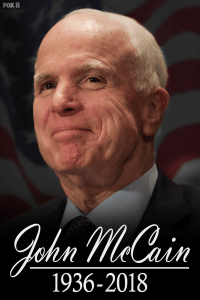 McCain died one day after his family announced he had stopped treatment for brain cancer. McCain would have celebrated his 82nd birthday on August 29.
The office of Senator John McCain released a statement on Saturday.
"Senator John Sidney McCain III died at 4:28 p.m. on August 25, 2018. With the Senator when he passed were his wife Cindy and their family. At his death, he had served the United States of America faithfully for sixty years."
McCain had faced down his captors in a Vietnam prisoner of war camp with jut-jawed defiance and later turned his rebellious streak into a 35-year political career that took him to Congress and the Republican presidential nomination.
The Arizonan warrior politician, survived plane crashes, several bouts of skin cancer and brushes with political oblivion.
He spent his last few months out of the public eye in his adopted home state of Arizona, reflecting on the meaning of his life and accepting visits from a stream of friends and old political combatants.
In a memoir published in May, McCain wrote that he hated to leave the world, but had no complaints.
"It's been quite a ride. I've known great passions, seen amazing wonders, fought in a war, and helped make peace," McCain wrote. "I've lived very well and I've been deprived of all comforts. I've been as lonely as a person can be and I've enjoyed the company of heroes. I've suffered the deepest despair and experienced the highest exultation.
"I made a small place for myself in the story of America and the history of my times."
McCain had not been in Washington since December, leaving a vacuum in the corridors of the Senate and the television news studios he roamed for decades.
However, In his final months, McCain did not go quietly, frequently jabbing at President Trump and his policies from the remove of his Hidden Valley family retreat in Arizona. He opposed the president's nominee for CIA director because of her past role in overseeing torture, scolded Trump for alienating U.S. allies at an international summit, labeled the administration's zero-tolerance immigration policy "an affront to the decency of the American people" and denounced the Trump-Putin summit in Helsinki as a "tragic mistake" in which the president put on "one of the most disgraceful performances by an American president in memory."
On Aug. 13, Trump signed into law a $716 billion defense policy bill named in honor of the senator. Trump signed the John S. McCain National Defense Authorization Act in a ceremony at a military base in New York.