This is an archived article and the information in the article may be outdated. Please look at the time stamp on the story to see when it was last updated.
CLEVELAND–A job bank manager who received a lot of backlash over rejection emails is now giving back an award.
According to IABC (International Association of Business Communicators) Cleveland, both the board of directors and Kelly Blazek agreed that she will return the chapter's 2013 Communicator of the Year award.
IABC Cleveland said the decision was made in the best interest of IABC, its members and its mission.
The association said, "Ms. Blazek, who is not an IABC member, agrees she will not use the Communicator of the Year designation in any way going forward, and apologizes to the members of the Cleveland chapter.
"IABC remains committed to providing professional communicators with the very best in content, community, and professional-development opportunities."
IABC said since 2005, it has named a Communicator of the Year as a "way to honor an individual within the Northeast Ohio community who has demonstrated excellence in communication leadership."
Blazek runs a Yahoo! group for job seekers in Northeast Ohio.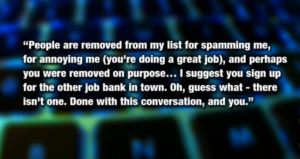 When someone asked for permission to access the Cleveland Job Bank with thousands of members after learning he was suddenly kicked out, he got a response from Blazek that reads, in part: "People are removed from my list for spamming me, for annoying me (you're doing a great job), and perhaps you were removed on purpose…I suggest you sign up for the other job bank in town. Oh, guess what — there isn't one. Done with this conversation, and you."
The email and several others went viral and Blazek apologized.
Read more HERE.