This is an archived article and the information in the article may be outdated. Please look at the time stamp on the story to see when it was last updated.
CLEVELAND HEIGHTS — The family of Jim Brennan is thanking everyone for the tremendous love and support, a day after the restaurant owner was shot inside Brennan's Colony in Cleveland Heights.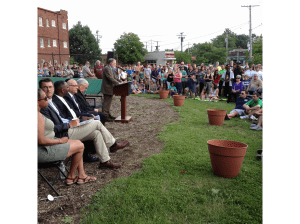 The 61-year-old died at the hospital. He's being remembered at a vigil tonight.
The family's entire statement is below:
"We want to thank everyone for the tremendous outpouring of love, condolences, and support we have received in the wake of Jim's sudden and tragic passing. We are very moved by all of the kind thoughts, words, and prayers–from both friends and strangers–that have come from as close as the Cedar Lee community and from far overseas. We are grateful to those who have paid tribute to Jim, by bringing bouquets of flowers to Brennan's Colony, posting so many heartfelt messages on social media, or otherwise sharing in our sadness as well as the celebration of his life.
We want to thank Cleveland Heights Mayor Dennis Wilcox and Vice Mayor Cheryl Stephens for their kind words and support. The Cleveland Heights Police Department, Bureau of Criminal Investigation, Federal Bureau of Investigation, and all other law enforcement personnel have our full support and appreciation as you work to bring those responsible for this senseless crime to justice.
We would also like to recognize the dedicated physicians and medical personnel at MetroHealth for doing all they could for Jim with great care, sensitivity, and professionalism.
We are overwhelmed by the restaurant and bar owners, Cedar Lee merchants, and area residents who have sent their sympathies and are sharing great stories about Jim. Please, continue to share those stories and memories.
As our family mourns, we are also reaching out to Jim's other family — the employees of Brennan's Colony — many of whom viewed Jim as a second Dad, to discuss the future. Jim has kept Brennan's Colony open at Lee and Silsby since 1991 and we will work diligently to reopen it as soon as possible.
Finally, if anyone has any additional information that would assist in the apprehension and prosecution of those responsible for this crime, we would urge you to contact Cleveland Heights police as soon as possible.
Thank you once again for your love and support."
The statement is from Jim's girlfriend, Kathy Murphy, and the Brennan Family.
*Click here for continuing coverage*