This is an archived article and the information in the article may be outdated. Please look at the time stamp on the story to see when it was last updated.
JACKSON TOWNSHIP, Ohio — The Jackson Township student who shot himself last week had planned a school shooting, Chief Mark Brink says.
Thirteen-year-old Keith Simons brought a long gun into Jackson Memorial Middle School, along with a backpack carrying ammunition, bottle rockets and batteries on Feb. 20. He shot and killed himself in the restroom.
Brink said the student had a memo on his phone expressing admiration for the Columbine shooters. It also detailed his eight-step plan and his access to firearms.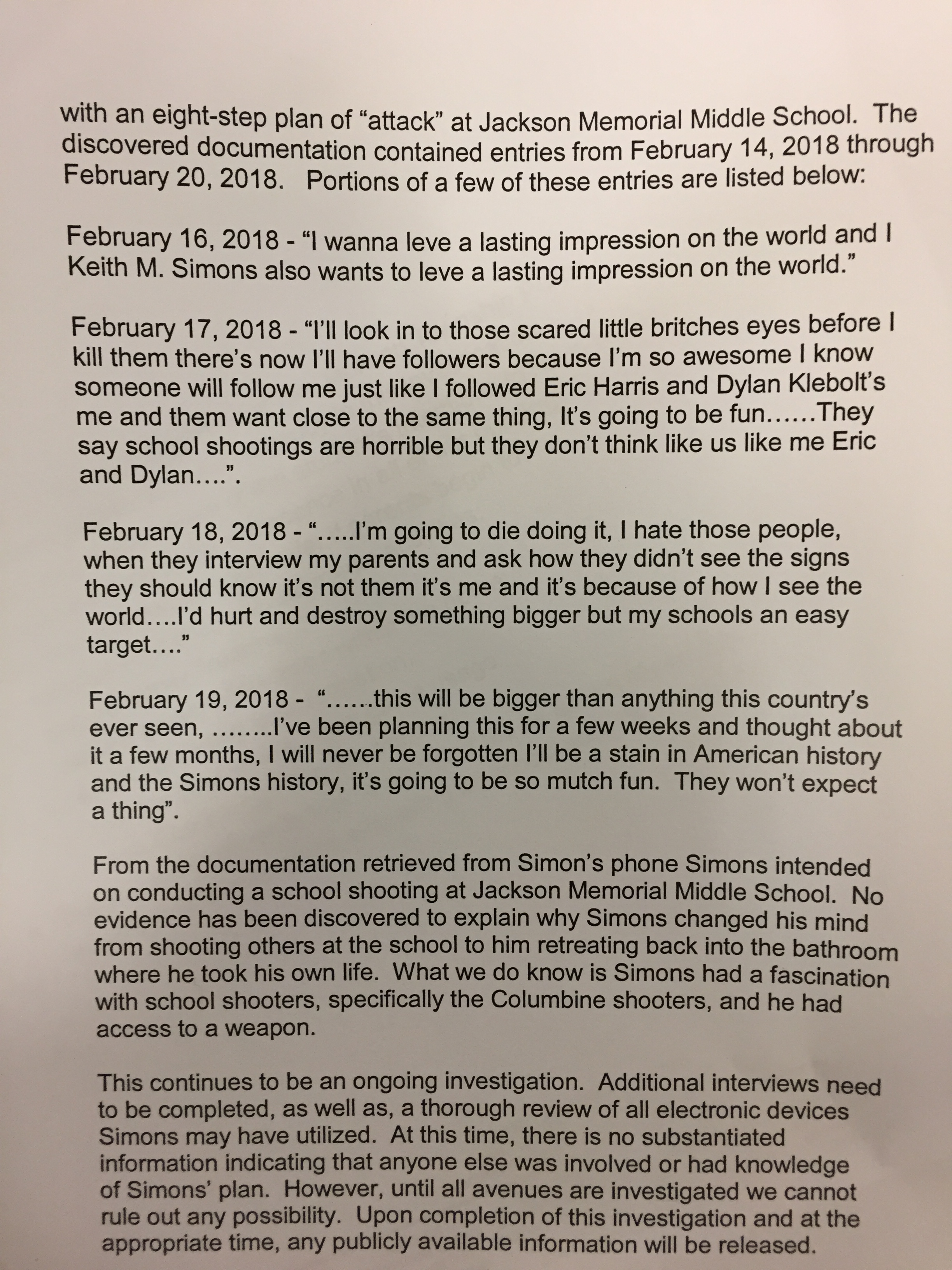 According to Jackson Township police, he wrote, "I'm going to die doing it, I hate those people, when they interview my parents and ask how they didn't see the signs they should know it's not them it's me and it's because of how I see the world… I'd hurt and destroy something bigger but my schools an easy target."
"These documents showed that Simons intended to conduct a school shooting and harm other individuals," Brink said.
Brink said it does not appear anyone had prior knowledge that Simons was planning a shooting.
On the morning of the shooting, Simons got off the bus and went directly to the restroom. Jackson Township police said he walked out of the bathroom with the gun. There were four students in the hallway at that time, but they did not see the weapon.
Brink said the student returned to the restroom, where another boy saw the gun, knew what was happening and reported it to school officials.
"Why he went back into the bathroom after he came out holding the gun and then committed suicide? We don't have an answer," Brink said.
The Summit County Medical Examiner's Office said he died of a gunshot wound to the head from a semiautomatic rifle.
The Jackson Township Police Department and the Jackson Local Schools agreed to have two officers at the high school, two officers at the middle school and one at the elementary schools through the end of the school year.