This is an archived article and the information in the article may be outdated. Please look at the time stamp on the story to see when it was last updated.
[protected-iframe id="b6dda8e9a33fdce418ecd09626aac504-28572381-39999276″ info="http://up.anv.bz/latest/anvload.html?key=eyJtIjoiTElOIiwicCI6ImRlZmF1bHQiLCJ2IjoiMzgyODQ1IiwicGx1Z2lucyI6eyJkZnAiOnsiYWRUYWdVcmwiOiJodHRwOi8vcHViYWRzLmcuZG91YmxlY2xpY2submV0L2dhbXBhZC9hZHM%2Fc3o9MXgxMDAwJml1PS81Njc4L2xpbi5XSVZCL25ld3MvcHJlZ25hbnQtbW9tLXRyYXBwZWQtaW4tc3Rvcm0tZ2l2ZXMtYmlydGgvZGV0YWlsJmNpdV9zenM9MzAweDI1MCZnZGZwX3JlcT0xJmVudj12cCZvdXRwdXQ9eG1sX3Zhc3QyJmFkX3J1bGU9MSJ9LCJhbmFseXRpY3MiOnsicGRiIjoiMzQ1NDUzNTIifSwib21uaXR1cmUiOnsicHJvZmlsZSI6IkxJTiIsImFjY291bnQiOiJkcHNkcHN3aXZiLGRwc2dsb2JhbCIsInRyYWNraW5nU2VydmVyIjoibGludHYuMTIyLjJvNy5uZXQifX19″ width="640″ height="360″ frameborder="0″ scrolling="no" webkitallowfullscreen="" mozallowfullscreen="" allowfullscreen=""]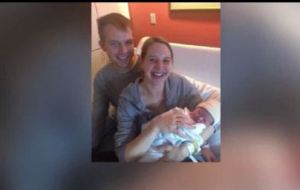 (CNN) — If a baby had to be born in a snowstorm, this was the way to do it.
Bethany Hojnacki of south Buffalo, New York, went into labor early Tuesday, according to CNN affiliate WIVB. She couldn't get to the hospital because of an epic snowstorm, but found help along the way.
"It was kind of incredible. God really put the people who needed to be in the right spot for us at the right time," Hojnacki's husband, Jared Hojnacki, told CNN's "Anderson Cooper 360" on Wednesday.
First, the couple encountered a woman who was stranded who just happened to be a labor and delivery nurse, Hojnacki said.
She stuck with them throughout the labor, and delivered their baby at a firehouse.
Lucy Grace Hojnacki was born just after 9:30 p.m. ET on Tuesday, WIVB reported.
Second, another stranded woman at the firehouse was, by coincidence, a maternity nurse, Hojnacki said, describing both nurses as angels.
What are the odds they were there?
"It's not odds; it's God," he said. "It's more than amazing. We're so blown away by God's grace."
Mom, Bethany Hojnacki, said, "It was a crazy time for sure, but a happy ending. Her name is Lucy Grace – her name means grace illuminated. On a day that was so sad, how many people died – this baby is such a bright like in a such a dark storm."