This is an archived article and the information in the article may be outdated. Please look at the time stamp on the story to see when it was last updated.
ONTARIO, Ohio — A stuffed animal placed at a baby's grave for Easter was stolen before the holiday even began.
Sadly, it wasn't the first time sentimental trinkets have gone missing from the 14-month-old's plot at Mansfield Memorial Cemetery in Ontario, Richland County.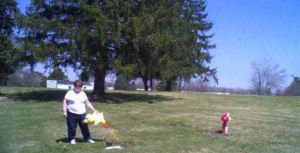 According to the Ontario Police Department, Hayden "Tank" Cole Sheridan died in 2007, and items started to disappear shortly after.  They included things like toys and solar night lights.
Tank's parents finally went to the police in 2012 and a surveillance camera was set up.
Though it rolled for years, a clear picture of a suspect was never caught — until April 19, 2014.
(Scroll down for video ….)
A large stuffed duck was placed at the grave around 9:30 a.m. Saturday.  Video taken at the cemetery shows a woman walking away with the toy around 1:30 p.m.
Detective Jon Sigler, who has been working on the case for two years, said the person in the video may not be responsible for all of the thefts that occurred at Tank's grave.
Sigler also said there is a picture of Tank on the grave marker, making it clear that it is the resting place of a baby.
"Most of all, the family just wants some assurance that they can leave a night light and a stuffed animal at their son's grave without someone stealing it," the Ontario Police Department wrote on its Facebook page.
According to Sigler, the cemetery confirmed it has not removed the missing items.
An exact number of things taken was not available.
Anyone who recognizes the woman in the video is asked to call the police at 419-529-2115
419-529-2115.