This is an archived article and the information in the article may be outdated. Please look at the time stamp on the story to see when it was last updated.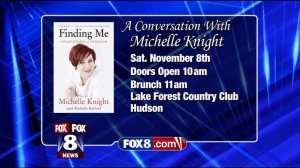 CLEVELAND, Ohio — Her message is that people can overcome horrible abuse.
And Michelle Knight says she has forgiven Ariel Castro, the man who held her captive for more than a decade.
"It took me a long while to actually forgive him, because I didn't understand what it meant to be a sexual abuser and be addicted to it," said Knight.
Knight said in the months since her escape, she's gone to a trauma center for help with what she went through and in an effort to understand why Castro did what he did.
She's also spoken at several events to spread her message of hope.
"It was, for me, I didn't want to hold on to the anger or frustrations or being crowded with all the mental problems that came with that tragedy," she said. "It set me free inside."
For much more from her visit, watch the video above.
Knight has a love for baking, so she also gave a hand to Stefanie Paganini during a cooking segment. To watch that segment, click here.
Much more on Michelle Knight, here.