This is an archived article and the information in the article may be outdated. Please look at the time stamp on the story to see when it was last updated.
NEW ORLEANS, LA– It's an unbelievable feeling for Master Sgt. Michael Maroney. The Air Force veteran, who was part of a rescue team that saved a little girl and her family from a flooded street during Hurricane Katrina, has finally found the child.
A photo of the two went viral in March when Maroney launched a social media campaign to find the child, who was three years old at the time.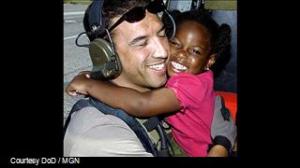 The 40-year-old told ABC News, "When she wrapped me up with that hug, I just melted, and the weight of the world was lifted off my shoulders. Everything in the world just stopped, and I wasn't in New Orleans or in the devastation; I was just being hugged by a beautiful little girl."
Last week, Maroney received amazing news. "A friend of hers contacted my son on his Instagram and said, 'Hey, the girl your dad's looking for is a friend of mine,' He sent us a photo of the girl a month after Katrina, showing her and her family in a shelter in Tennessee. I compared that photo with my photo, and I knew that it was her," he told ABC News.
Maroney told ABC News the girl, who is now 13, is Leshay Brown; she lives in Mississippi with her family.  Maroney was overjoyed to hear her voice when he spoke to her and her family on the phone. "I was like, 'Is this real? Is this really her?' I've been waiting for 10 years for this, and finally I found her. I had a stupid smile across my whole face the whole time."
He said he plans on traveling from his home in Texas to reunite with Leshay in the next couple of weeks.