This is an archived article and the information in the article may be outdated. Please look at the time stamp on the story to see when it was last updated.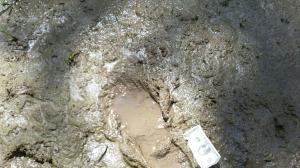 HOWLAND – Could Bigfoot be in Trumbull County, Ohio? One man thinks so.
Pete Kondolios, of Howland, says he and a friend believe they spotted the creature previously in 2014 and 2015. But now, Kondolios thinks this Bigfoot is back and brought friends.
"We found these tracks just this week and they are fresh," Kondolios said.
He said they were found in a wooded area in Howland Township.
"The one print is very large and there are two smaller sets , that are still pretty big," Kondolios said.
He placed a dollar bill next to one of the prints to show how large it is.
He added that he plans to track the creatures and hopes to find them soon.