This is an archived article and the information in the article may be outdated. Please look at the time stamp on the story to see when it was last updated.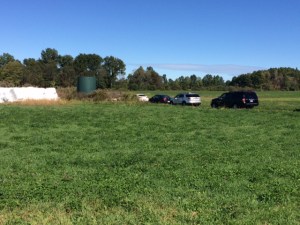 NORTH BLOOMFIELD, Ohio — Brandi Peterson, the mother of Rainn Peterson, tells Fox 8's Peggy Gallek she feels like a suspect.
"They won't let me have custody, and I can only have short supervised visits," Brandi Peterson said. "It is not fair."
She said she took a polygraph and passed. She also said she now has to go to court for a custody hearing.
She says her daughter was dehydrated and had a bad infection.
"I just want her home with me," Peterson said.
Authorities are continuing to investigate how her 2-year-old daughter, Rainn, got out of her great-grandparents' home before being found in a field less than a mile away nearly 48 hours later.
Authorities met Monday morning to discuss their next steps in the case.
The Trumbull County Sheriff's Office is involved in the case, authorities say.
Monday, several unmarked cars were at the scene where the child was found.
"We just want to piece everything together," said Trumbull County Sheriff Tom Altiere. "We have interviews…we haven't done yet. We want to make sure there was no foul play."
Rainn Peterson was found safe about 48 hours after she was reported missing from the state Route 45 home in North Bloomfield. She was taken to a local hospital for evaluation.
Authorities said when the girl was found, she had one shoe on and one shoe off. She also had some scratches.
A volunteer riding through the field on a four-wheeler found the girl.
**LISTEN TO THE MAN'S EMOTIONAL 911 CALL HERE**
Peterson was last seen at 6:30 p.m. Friday. Family members say they were downstairs in the home when Rainn went missing and that the only unlocked door at the time was the door to the garage.
Family members were questioned on Friday night and Saturday as authorities worked to piece together her disappearance.
Multiple agencies were involved in the search, including  BCI (Bureau of Criminal Investigation), the Trumbull County sheriff's office, the FBI, the Marshal's office as well as representatives from the Center for Missing and Exploited Children.
Stick with Fox 8 and Fox8.com for more.
Click here for more on the search for Rainn.