This is an archived article and the information in the article may be outdated. Please look at the time stamp on the story to see when it was last updated.
Diapers are desperately needed as families escape Harvey's floodwaters; many of them have no idea when or if they will be able to return home.
The Texas Diaper Bank says diapers are not provided by disaster relief agencies, so it is in desperate need of cash and diaper donations.  The diaper kits will then be given to the families displaced by Harvey.
Diapers can be shipped to:
5415 Bandera Road, Suite 504
San Antonio, TX 78238
Monetary donations can be made, HERE.
**CLICK HERE to reach the Texas Diaper Bank's website for more on how you can help**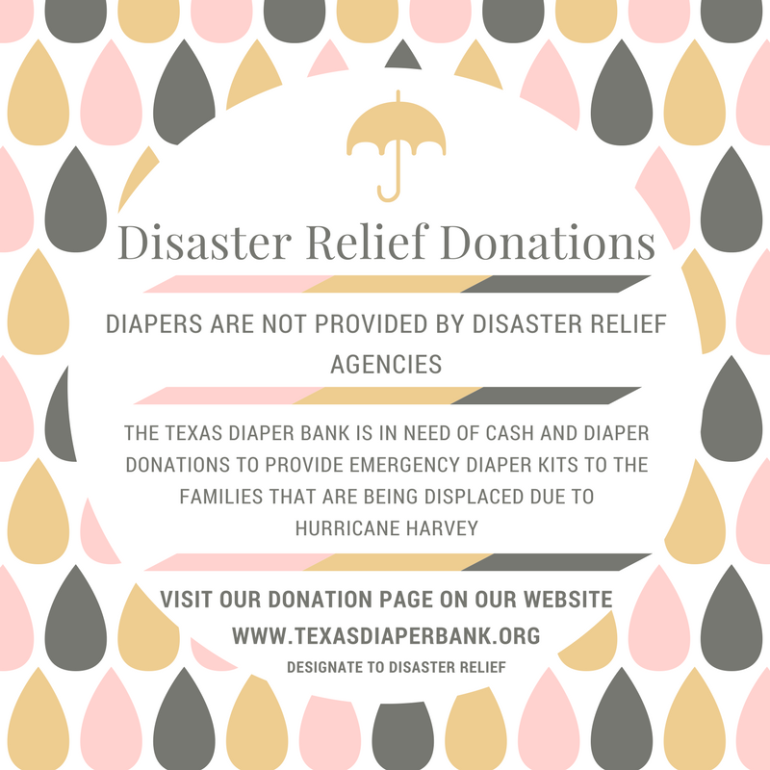 The City of Stow is getting involved in the diaper drive.  The city will collect supplies beginning today through Friday, September 22.
"Stow stands with our neighbors and friends in Texas who are impacted by this terrible storm. We want to help in any way we can and the Texas Diaper Bank provides an essential service to families. By collecting supplies for the Diaper Bank, we can help in a small, but important way," said Stow Mayor Sara Kline.
The city will accept donations of diapers or money for the Texas Diaper Bank at Stow City Hall on 3760 Darrow Road.
Stow will also collect at the annual Summer Blast Sept. 2 and 3 at Silver Springs Park. Stow City Council will be taking donations at the council booth.
Stow says  only the following items are being requested by the Texas Diaper Bank:
Infant diapers of all sizes
Toddler pull ups of all sizes
Adult incontinence supplies (*there is high demand for these items at this time)
Disposable hygienic wipes
Monetary donations will be forwarded in full to the Texas Diaper Bank. Stow says due to the nature of the community collection, receipts for tax deductible purposes will not be provided.
If you have other questions, you can call the Stow Mayor's Office at 330-689-2800.
**Continuing coverage on Hurricane Harvey**