This is an archived article and the information in the article may be outdated. Please look at the time stamp on the story to see when it was last updated.
CLEVELAND, OH— They are usually the ones to deserve the thanks, but one police officer working this week is actually thanking Cleveland.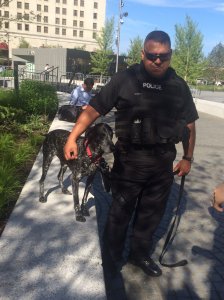 Police Officer Robert Corchado works with the K-9 Unit for the Los Angeles Airport Police. This week he was sworn in as a Cleveland Police Officer to help keep the peace during GOP Convention week.
"So far it's been great," Corchado says. "Cleveland is a great time and the people are even better."
Corchado works the 6am to 6pm shift this week. He tells Fox 8 the mornings are pretty slow but it does start to get busy in the afternoons.
"Big groups of protesters start to come in and we just adjust to that. It's something we've been practicing and training for daily."
Like Corchado, there are hundreds of officers in from all over the country. All the groups are working together to help make sure the streets are safe. For people like Corchado, it has been an amazing experience.
"The Cleveland Police Department is the most professional I have ever worked with," Corchado said. "They are very accommodating and we're honored to be here . It's a great relationship we have with them right now."
While the officers have been hard at work they have had a little time to enjoy Cleveland. Corchado said the city has the greatest museums and he has already been to the Christmas Story House twice and plans on going again.
"It's my family's favorite movie," he said. "I've already spent over $100 dollars on gifts and souvenirs from there."
Corchado and his partner from LA say there is one more stop they have to make before they leave. And that's to pose with the big LeBron James sign.
"Thank you Cleveland," Corchado said. "Thank you for welcoming my department. We are going to come back real soon."
**Follow FOX 8 News and fox8.com throughout the week for continuing LIVE coverage on the RNC**
**Follow us on Twitter and Instagram; like us on Facebook for photos and LIVE updates**