This is an archived article and the information in the article may be outdated. Please look at the time stamp on the story to see when it was last updated.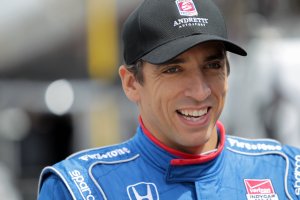 LONG POND, Pa.– IndyCar driver Justin Wilson, who was struck by a part careening off a crashed race car, has died, Mark Miles, CEO of the parent company of IndyCar, said late Monday.
The nose cone of driver Sage Karam's car flew off after he crashed Sunday at Pocono Raceway in Long Pond, Pennsylvania, and struck Wilson in the head. Wilson's No. 25 Andretti Autosport Honda then hit a wall before coming to rest on the track.
*Watch video of the press conference above and a report following Sunday's crash below*
"Justin's elite ability to drive a race car was matched by his unwavering kindness, character and humility," Miles said. "He will be missed."
Unlike NASCAR vehicles, IndyCar vehicles have an open cockpit, leaving racers more exposed.
The accident happened with 21 laps left in the ABC Supply 500.
Wilson, 37, was flown to Lehigh Valley Health Network-Cedar Crest Hospital in Allentown, Pennsylvania, according to IndyCar.
Karam was also taken to the hospital for evaluation of a foot injury. It was unclear if he was admitted.
Karam tweeted Sunday that he was "thinking and praying" for Wilson and his family.
Driver Ryan Hunter-Reay, who won the race, said the accident looked terrifying.
"Just to be an innocent bystander like that and get hit in the head with a nose cone is a scary thought," Hunter-Reay said.
"He has a family, just like I do. He's a great friend, a teammate. Can't say enough about the guy on and off the racetrack."
He never stopped giving & caring for others. Even at this time. He had pre-chosen to donate his organs to help others in need. #myherojw

— Stefan Wilson (@stef_wilson) August 25, 2015
Can't even begin to describe the loss I feel right now. He was my Brother, my best friend, my role model and mentor. He was a champion!

— Stefan Wilson (@stef_wilson) August 25, 2015
I can't find the proper words to describe the pain and sympathy I feel for Justin and his family. #RIPJustin

— Sage Karam (@SageKaram) August 25, 2015