This is an archived article and the information in the article may be outdated. Please look at the time stamp on the story to see when it was last updated.
ELYRIA, Ohio– A much-loved member of the senior class at Keystone High School passed away Tuesday but his spirit was everywhere at graduation ceremonies Friday night.
Logan Stiner died of natural causes in his home. He was eighteen years old. Logan was the school's prom king.
He was an outstanding student and athlete. Friends remember him as someone who could lift the spirits of everyone around him.
One hundred forty Keystone seniors graduated in ceremonies at the First Baptist Church of Elyria. They observed a moment of silence for Logan, followed by a balloon launch in his memory.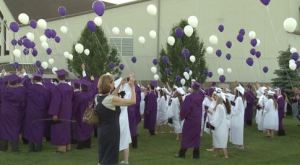 Superintendent Jay Arbaugh said the ceremonies touched all the right notes. "I think it was important to honor Logan's memory and also to have a celebration of all these kids accomplishments and I think we did that. I think we were able to do both and it was a great night for the kids. The community and the kids responded to this week as I expected them to, which is terrific. It is a great community, great kids," he said.
The superintendent said there were a lot of hugs Friday night. He called that a "very good thing."