This is an archived article and the information in the article may be outdated. Please look at the time stamp on the story to see when it was last updated.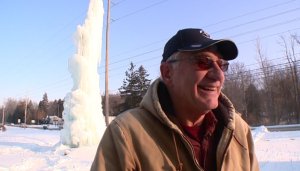 NORTH RIDGEVILLE, Ohio -- North Ridgeville has its very own "ice mountain," and it's the talk of the town.
It's all compliments of Andy Eck -- aka -- the "Ice Man" -- and what he describes as "perfect weather."
He lives at 6970 Lear Nagle Rd., where he's created the ice sculpture in his front yard.
He made it using a 1/2 inch pipe and the garden hose, creating four feet at a time. The statue is now up to about 30 feet, he said.
He started making the mountain back in 2010. Since then, he's created one four times.
"Not the last three years due to the weather," he said. "You need 25 degrees and no wind. It was perfect weather this year.
Eck said at first, some think it's all from a water leak. But he posted a small sign saying 'ice sculpture' to clear it up.
Plus, he strung 250 lights around it, so it glows at night.
Eck says people honk their horns and leave him little postcards about the sculpture all the time; he said the mayor even thanked him for creating something that has brought so much positivity to the community.
"One of the great things about it, it's like a magnet for my grandkids," he said.