This is an archived article and the information in the article may be outdated. Please look at the time stamp on the story to see when it was last updated.
CLEVELAND-- Ariel Castro is being held in connection with the kidnapping of Gina DeJesus, Amanda Berry and Michelle Knight.
The 52-year-old is a father of grown children with a passion for playing the bass guitar.
But, records on file with Cleveland schools indicate Ariel Castro had a pattern of using bad judgement and that's why he lost his job as a bus driver in Nov. 2012.
Click here to read Ariel Castro complaints
That behavior included leaving a child on a school bus, making an illegal U-turn in rush hour traffic with a bus load of students.
According to the records, in 2012, Castro was disciplined for using the bus to do his grocery shopping.
As for his passion for music, band manager Miguel Quinones said, "(Ariel was) always smiling. I can say he's a great musician; that's why we used him, very talented. I really can't say anything negative."
Quinones said he met Castro while managing a local band called Grupo Fuego.
Quinones needed a bass player to fill in back in 2008 and Castro came highly recommended.
Castro's uncle could not believe his nephew was allegedly behind the disappearance of the three women, who were found alive Monday at a home on Seymour Ave. in Cleveland.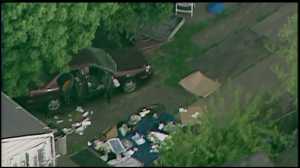 Julio Castro told FOX 8 that Ariel was such a nice person he drank beer and ate ribs with the neighbors.
In 2004, two years after Michelle Knight disappeared and one year following the  disappearance of Gina DeJesus, Children and Family Services knocked on Castro's door while investigating him for leaving a small child on a Cleveland school bus he was driving.
No one answered the door..
There did appear to be a problem at the home almost 20 years ago: Castro's wife at the time, Grimilda Figueroa, accused him of domestic violence.  Documents on file with the Cuyahoga County Clerk of Courts show Ariel Castro was indicted; but the case was not billed, meaning he never faced the charges in a court of law.
*CLICK HERE for more coverage on this story.