This is an archived article and the information in the article may be outdated. Please look at the time stamp on the story to see when it was last updated.
CLEVELAND, Ohio — The FOX 8 I TEAM has uncovered an investigation into counterfeit tickets for downtown sporting events and concerts. And this comes just as the Cavs are starting a new round of playoff games.
Last month, Cleveland police searched a home in Eastlake and arrested Jesse Joe Cundall. Now the Cleveland Police Financial Crimes unit is investigating to track down any others involved.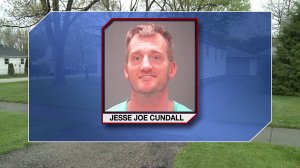 Court papers show Cundall is accused of selling fake tickets to a January sporting event. But a detective wrote, "Cundall repeated this scam several times profiting over $1000." Police say the tickets had been advertised on Craigslist. Police also say Cundall "did manufacture and sell fictitious event tickets."
By phone, the I TEAM spoke to a recent victim of counterfeit tickets. He told us he saw a good deal for Cavs seats on Craigslist, paid a guy $250 bucks for two seats to a game against the Celtics, and he found out he'd been scammed when he got to the arena.
The victim said, "We're like what's going on here? Ended up getting a guy in a suit, and the guy in a suit explained the situation for us. They were actually receiving a lot of fake tickets for that game."
A police report shows another guy lost $300 when he bought two fake tickets to a recent concert by Bruce Springsteen at the Q.
We went to the home of the suspect arrested. A woman there said she is the girlfriend, but she knew nothing about the tickets investigation.
An attorney for the suspect declined to comment since the case will be heading to a grand jury.
The Cavs say the safe way to buy seats is through the team or their Flash Seats website.