This is an archived article and the information in the article may be outdated. Please look at the time stamp on the story to see when it was last updated.
CLEVELAND – Investigators with the International Research Group spoke with Matt Barron Friday about developments in the death investigation of his son, 22-year-old Cory Barron.
Since the Fox 8 I-Team story ran Thursday, investigators have already received tips on the case.
"We have gotten several calls which may help us identify one of the individuals section 541," said Dick Wrenn, one of the investigators with IRG.
Wrenn along with Richard Rosfelder Jr., and David Lyons have been investigating the case for the past 8 months. IRG was asked to look at Cory's death, after Cleveland police closed their investigation. Cleveland prosecutors reviewed Cory Barron's case in 2015 and ruled there is insufficient evidence that a criminal offense occurred.
IRG investigators, former federal agents, disagree.
"It's absurd to think this was an accident," Wrenn said.
Barron, 22, died after falling down a garbage chute at Progressive field during a Jason Aldean concert in July of 2014.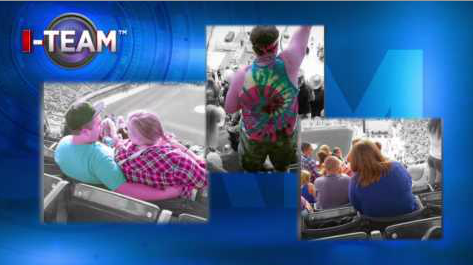 The investigators with the International Research Group tell Fox 8, Cory may have been dead when he was put in the chute, or at least incapacitated or unconscious.
"We believe a conflict took place prior to Cory being put in the garbage chute," Lyons said.
Pictures obtained by the I-Team show the 24 inch by 24 inch trash chute, the one that 225-pound Cory Barron is alleged to have gotten into the night he died.
Wrenn said Cory had bruises to the head and chest that were caused prior to his death.
"We believe the blows to the head and the ribs indicate the probability that this kid was hit and kicked, and then picked up and sent feet first down the garbage chute," Wrenn said.
Leading the investigators to that conclusion are discussions with Cory's Family, police, the coroner's office, as well as a witness in section 541, who gave a chilling account of what took place that night.
"The witness said sometime between 9:45 when the concert began and 10, Cory Barron was seen in section 541, perhaps in an argument with a young man there," Wrenn said. "Cory turned to leave and was followed by several individuals and that was the last he was seen."
A witness provided three pictures that show others in that section. These individuals are just possible witnesses investigators would like to talk to find out what they may have seen that night.
Cory went to the concert that night with his sister, brother, and a few friends. Shortly before the concert started he went to visit a friend in another section and was not seen by his family again.
Cory's father Matt, talked to Fox 8 Friday and said he is hoping anyone at that concert in July 2014 will look at their pictures or video.
"We need help to find out what happened," Matt Barron said. "We want to know what exactly happened to Cory."
A reward of up to $10,000 is being offered for information leading to an arrest and conviction of those responsible for Cory's death.
An anonymous tip line has been sent up, if you have any information or where in section 541 that night, please call 1-877-637-6600. Or email IRG at info@irgglobal.com.