This is an archived article and the information in the article may be outdated. Please look at the time stamp on the story to see when it was last updated.
DANVILLE, Ohio — A Danville police officer was killed in the line of duty late Sunday night.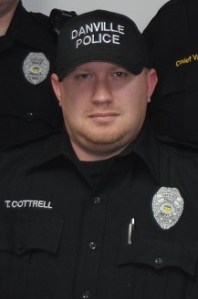 The Knox County Sheriff's Office identified the officer as Thomas Cottrell.
His body was found behind the Danville Municipal Building just before midnight Sunday.
In a news release, the Knox County Sheriff's Office said dispatchers received a call from a woman in Danville around 11:20 p.m. stating that the police officers in Danville were in danger.
She said that her ex-boyfriend, Herschel Jones, had left with weapons and was looking to kill an officer.
Dispatchers tried to contact Cottrell to warn him, but were unsuccessful. Deputies searched the village and found Cottrell's body just outside the police station.
His service weapon was taken, and his cruiser was missing.
Knox County Sheriff's deputies spotted Jones running from a house on East Washington Street just after 1:30 a.m. After a short chase, Jones was taken into custody near Danville Park.
A woman who was outside the house that Jones ran from was interviewed by investigators and released.
Court records show Jones, who was born in 1983, has a criminal history including breaking and entering, burglary, carrying concealed weapon, and receiving stolen property.
The Bureau of Criminal Investigation is also on the scene assisting in the investigation.
The Danville Police Department consists of seven officers.
Stay with Fox8.com and Fox 8 News for updates on this developing story.