This is an archived article and the information in the article may be outdated. Please look at the time stamp on the story to see when it was last updated.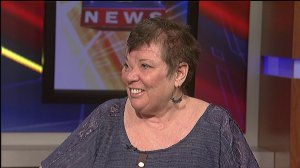 CLEVELAND, Ohio -- Northeast Ohio has been following Sharon Budd's inspirational story since last July, when a rock thrown from a highway overpass smashed through her car windshield.
Sharon spent months in the hospital; she lost one eye and has had six surgeries so far.
Sharon and her husband, Randy, visited Fox 8 News Monday morning to talk about their journey and what lies ahead for Sharon during her recovery.
Four teenagers are accused of throwing the rock that hit her car. When asked if she could ever forgive them, she said yes.
Watch her amazing interview in the video player above. CLICK HERE to show support for Sharon.