This is an archived article and the information in the article may be outdated. Please look at the time stamp on the story to see when it was last updated.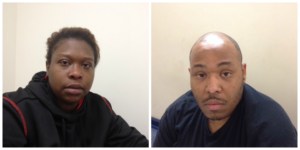 SPRINGFIELD TWP., Ohio — A husband and wife have been arrested in connection with an armed robbery at a gas station Thursday night.
Melissa Sue Smith, 30, and her husband William F. Smith IV, 29, face charges of aggravated robbery in the case.
It happened at about 8:20 pm.. at Mash Oil, 2279 S. Arlington Road, according to police.
The clerk told police someone entered the station wearing a ski mask and brandishing a gun. The suspect then pointed the gun at the clerk and demanded money before fleeing the scene in a blue mini-van driven by another person.
The suspect's vehicle was pulled over for a traffic stop a short time later by a Summit County deputy sheriff. Upon further investigation, a pistol, ski mask and the stolen money were found in the vehicle, according to police.
Police concluded that Melissa entered the store and her husband drove the vehicle.
Both are being held in the Summit County Jail.