This is an archived article and the information in the article may be outdated. Please look at the time stamp on the story to see when it was last updated.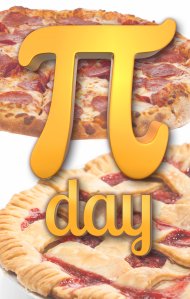 Math lovers: Get excited! Today is National Pi Day.
That's not pie as in dessert. But as in the math symbol — the Greek letter Pi.
Keeping it simple, it's 3.14 — like March 14.
But PiDay.org says people have calculated pi to more than 1 trillion digits beyond the decimal point. Some people challenge themselves to memorize as many of those numbers past the decimal point as they can.
Others — they look for deals!
— Bakers Square: Take $2 off pie orders. The double crust fruit pi will include the mathematical pi symbol on the crust.
— Blaze Pizza: Land any pizza pie for $3.14.
— Boston Market: Free chicken pot pie with any individual meal and drink purchase.
— Hungry Howies: Purchase any Howie Bread and get a medium, one-topping pizza for $3.14.
— Villa Italian Kitchen: Get a whole cheese pizza for $3.14.
— Whole Foods: Get $3.14 off any large bakery pie or large 'Take & Bake' pizza.