This is an archived article and the information in the article may be outdated. Please look at the time stamp on the story to see when it was last updated.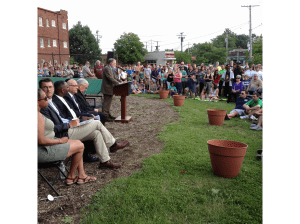 CLEVELAND HEIGHTS, Ohio -- Hundreds gathered Tuesday night to honor the life and legacy of a well-loved restaurant owner who was shot and killed Monday.
Community leaders organized a vigil at the corner of Lee and Meadowbrook to remember 61-year-old Brennan's Colony owner, Jim Brennan.
In an overwhelming show of support, Brennan's Colony employees were greeted with a round of applause as they filed in together, many overcome with emotion.
"We all owe Jim so much. He gave all of us more than we could ever give back to him," said one employee.
"He was like our father. He just symbolized this family to us," explained Brennan's colleague, Allison Edgerton. "You know, the Colony is gonna come back again. Brennan's is not gonna change. We're all still gonna be there--still keep loving it. And we're not gonna let his legacy die, because he doesn't deserve that."
The staff lit candles among hundreds of friends, patrons and neighbors who came out to honor a pillar of the Heights community.
"I wanted to teach my kids that when something bad happens, you have to show your support and be there for one another," said longtime resident, Courtney Corrigan.
Police said Brennan was manning his Lee Road restaurant when two men walked in just after 1:00 Monday afternoon.
They took him to the basement where they ordered him to open the safe.
Investigators said it's possible there was a struggle just moments before the shooting.
Brennan's fiance, Kathy Murphy, released a statement from the family Tuesday thanking everyone for the tremendous outpouring of love and support. You can read the entire statement here.
While the shooting is a tremendous tragedy, the community is sending a strong message that fear will not prevail.
"What you see here tonight is the strength of the Cleveland Heights community," said Mayor Dennis Wilcox. "We're a strong community and when we lose one of our own, it's like losing someone in the family. But we come together like a family and we will deal with this."
No arrests have been made.