This is an archived article and the information in the article may be outdated. Please look at the time stamp on the story to see when it was last updated.
CLEVELAND — The FOX 8 I-Team has found a warning at a local hospital to be on the lookout for a woman police think may steal a baby. This comes as the latest twist in an investigation first revealed by the I-Team last week concerning the wife of a police officer and a suspected scam claiming she's dying of cancer and she's pregnant.
The hospital warning comes on a poster featuring Dawn Brown. The poster's been put up in the Birthing Center at Fairview Hospital. Police say Brown "could attempt to try and take a baby." Police also refer to an "ongoing scam involving a fake pregnancy."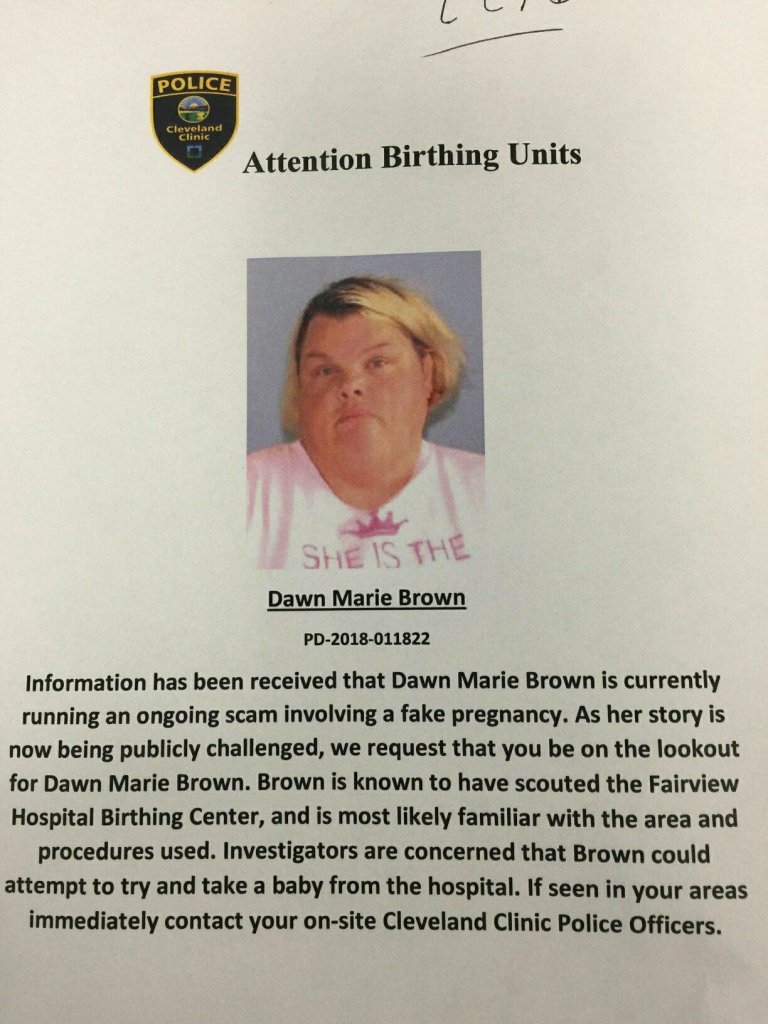 Cleveland Police are looking into money, food and more collected through social media. Weeks ago, the Cleveland Police Union also opened the doors of its hall for a blood drive for Dawn Brown. Steve Loomis served as union president at the time. Thursday, he reacted to the news of the investigation saying, "Any law-abiding citizen out there, this story just tugs at your heartstrings." He added, "People are literally giving of themselves for that and for good reason. Very disappointing."
Detectives even have a Facebook post from last year showing Dawn Brown claiming she got a call from the President of the United States after she spoke in Washington, D.C. about her situation.
Since this involves an officer's family, this began with an internal investigation. But multiple sources tell the I-Team, it has turned into a criminal investigation. Now it involves the county prosecutor's office, too. Though, so far, no charges.
The Cleveland Clinic runs Fairview Hospital. The Clinic issued a statement that said, "Based on information we received from the Cleveland Police Department, we have taken extra measures to ensure patients are safe and secure at Fairview Hospital. We take this matter seriously and want to reassure our patients that their safety is our top priority."
This week, Cleveland Police say Dawn's husband, Ken Brown, retired from the police force. Investigators initially didn't believe he had any idea about what was really going on, but detectives are taking a hard look at that as well.
Steve Loomis added, "I hope that it doesn't taint people from helping other folks that need help."